While going home to Houston, Mississippi for Christmas of 2009, I realized that my Mom's house to be (house that I grew up in too) needed allot of remodeling to prepare for Mom to move in. So I came up with my own brand of unique Christmas present material. A total make ready and I only had six days until I had to be back in Dallas,Texas. So after filling holes of all sizes and caulking and priming and adding a heavy hiding texture and following it with primer paint and glaze to bring it back from years of being a rent house.
The kitchen and the bathroom walls and cabinets created the biggest work load in a house that needed something in every room. I picked the trim and ceiling colors and also came up with the Living Room color and then carried it down the halls. After a heavy texture paint and glaze look on all of the heavily abused walls in the kitchen and priming and painting the kitchen cabinets, we had begun to transform the space.
In the bath area mismatched tiles and very poor choices of color before we started meant that priming everything ( including the tub ) and using our new enamel color, Antique White, was beginning to pull everything together. Once that look started working, then we pulled the linoleum tiles up, applied backer board, and brought in new tile and created a new look that this house sorely needed.
Also this remodel project done on vacation reminded that what I do, I can do anywhere with any diversity and still create new looks in almost any situation.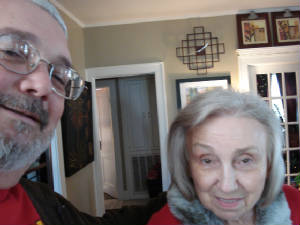 Me and my Mom, Helen Simmons.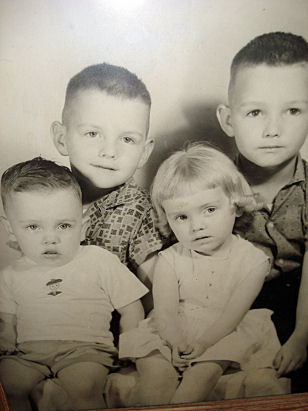 Family portrait from long ago. I am the handsome one in the upper right.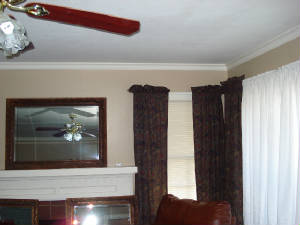 The new Living room look ready to move in with everything freshly painted and window treatments added.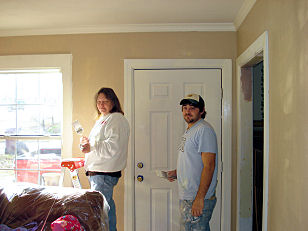 My sister and my nephew were my best helpers and continued after I left. My nephew John, is a very good tile man and Jack of all trades and I would recommend him to anyone in the Houston area. I will show off his tile work when I get some pictures of it. I could not have done this without the help of many other family members throwing the time to help my Mom and there Grandmother to complete this job ASAP. Thanks.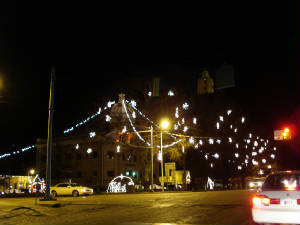 The Houston court house square all lit up for Christmas.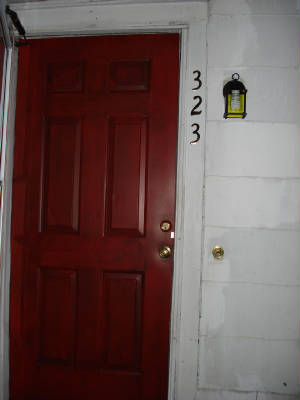 The front door that was green( like the kitchen )done in a dry brushed look in a custom red paint to create a mahogany look and give us a new front door. We also added new house numbers and a new light.
In the Spring, the outside gets done as well.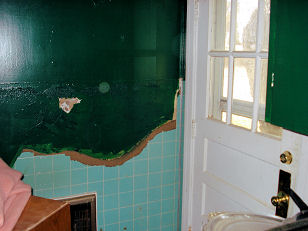 The abused back door wall area of the kitchen needed a very heavy texture to hide all of the Ill's. First we removed the tile board ( what was left on that wall anyway) and next I applied a hiding type texture that looks like washed river rock ( no trowel marks ) and primed and painted Antique white and followed with a custom glaze called Bryant Glaze to finish out the area with a new updated look.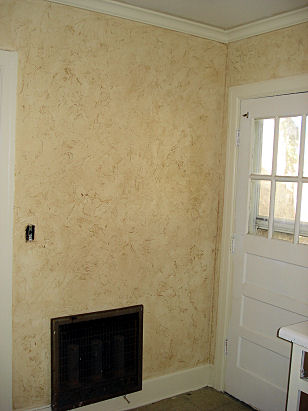 Our new look finished and ready to show off. This is my first ( and maybe not my last ) Faux Finnish ( Texture paint and glaze) that exists in Houston, Mississippi. If someone chooses to hire me to do work for them in Mississippi, then while that is going on, I can do more for Mom too.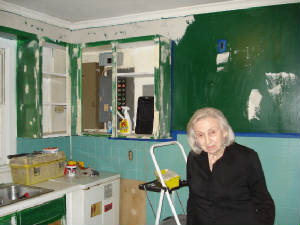 This is my Mom, Helen, and what needed to be changed, and that is exactly what we did. Now all we are missing is our new custom doors that Steve Hare ( a friend from the past who does local remodeling jobs, also that I would totally refer if any one needed his services in the local Mississippi area. He can be reached to bid your projects as well by contacting me and I will hook you up), will order for me as soon as I set it up.
Enter subhead content here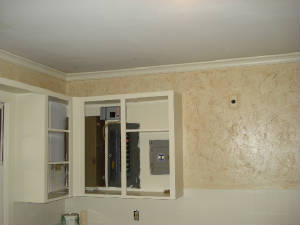 Newly finished walls and the only thing that I need now is those new doors to complete this look.