These are the pictures from the master bedroom and the master bath areas that were completed before we were able to get the kitchen cabinets rolling. The hold up was the addition of a new back-splash and the removal of the old one. The wait was well worth it with the overall new look.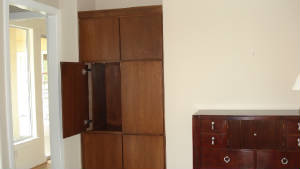 A built in TV cabinet in the master bed room that has been transformed inside and out to go with the new rich look that also works with the home owners existing furniture.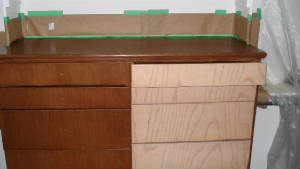 the chest of drawers in the master bath closet with only one side glazed and one side before glaze. A very distinct new look that not only down sizes the grain but rich ens the whole room with a new look.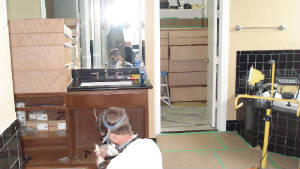 Derek working on cabinets in master bath area.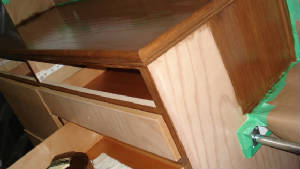 The dresser drawers in master bath closet in progress. This shows that all of this color application is done by hand and done in a piece by piece direction as well for our very customized new look.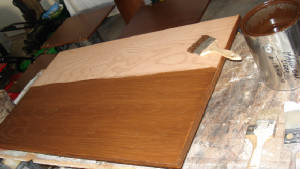 A look at the technique and the product in action. Some doors are finished and this one is in progress to give you an idea of the direction that we are trying to achieve and how I get that to the point that I need to to complete the look.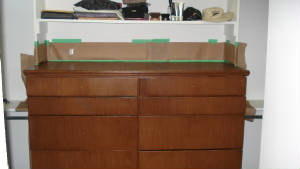 The dresser drawers in the master bath closet after the toning is complete. The changes work to transform this piece to out new updated warmer look.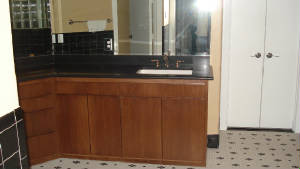 Cabinets in the master bath with our new look.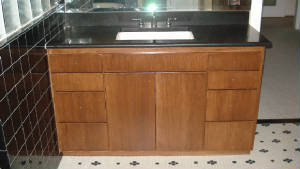 A during shot as after we finished the original color toning, we had to go over them one more time to make sure that each piece matched the other pieces.